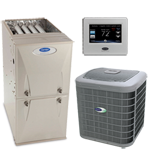 Your HVAC system consumes more energy than any other appliance in the home. In fact the average household spends an average of $2200 per year on energy bills and a full 50% of that is heating and air costs. After equipment reaches a certain age, efficiency and capacity diminishes. The life expectancy of HVAC equipment is between 10-15 years, according to the National Association of Home Builders. Knowing when to replace and upgrade can save homeowners money and a lot of aggravation. A-1 Hobbs Heating and Air can help with this decision.
Below are a few signs that your system may need replacing:
System is 10 years or older
Factory Warranty has expired
Frequent Repairs
System is Noisy
System can not maintain desired temperatures or humidity
High Energy Bills
Replacement parts become more difficult to obtain
The system is beyond 3/4 of the life expectancy or the repair is over 30% of the replacement cost
No one can pin point the life expectancy of a piece of equipment. Listed below are a few variables which affect the life of the equipment:
Maintenance
Climate
Usage
Oversized (system short cycling)
Improper Air Flow
Upgrading the existing HVAC system can immediately begin saving homeowners money. New and properly installed equipment can be 40%-50% more efficient than the existing equipment (depending on age). Replacement also provides peace of mind knowing that your system is under warranty. After the decision to replace is made, ask about upgrades that maximize your systems performance and comfort.
Available Comfort and Performance upgrades include the following:
Variable Speed Blowers
2 Stage or Variable Speed Compressors
Multiple Staged Heat
90 Percent Furnaces
Thermostats capable of dehumidification
Air purifiers
Fresh Air Ventilators

Systems upgraded with the above not only enhance comfort but increase efficiency.
Replacement also requires insuring the ductwork, returns and electrical wiring are adequate. Our refrigerant piping is sized to the new equipment manufactures specifications. We also perform a Manual J Load Calculation to ensure the equipment is sized properly. (75% of the systems in operation today are over sized.) Once the installation is complete a supervisor will inspect the job to ensure customer satisfaction and quality of work.
At A-1 Hobbs our Indoor Comfort Specialist can advise the customer about repair, replacement and all upgrades available. We are always happy to answer any questions new homeowners may have.
If you are in the market for a new HVAC system please give us a call for a free estimate.
A-1 Hobbs is a proud Recleim Partner. Rest assured that your old unit will not end up in a landfill.