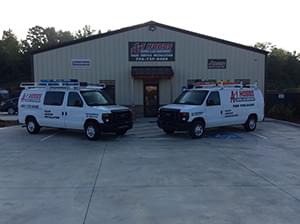 A-1 Hobbs Heating & Air Conditioning was founded in 1980 by Steve Hobbs who, at the time, was employed by a local HVAC contractor for over 17 years. Over the next 2 decades A-1 Hobbs thrived in the community and began to lay the foundation on which the business was built. In 1999 Steve moved out of state, leaving Mike Hobbs (Steve's son) and Danny Widener (Steve's brother in-law) acquiring the business. Danny, who had been with the company for some time and Mike who helped over the years, working summers and afternoons, continued with the same honest and reliable service the company was founded on. Starting out with a couple of trucks and a strong work ethics Mike and Danny have been operating the business with proven success for over 15 years. Working with some of the most premier builders in the area, custom home design and installation have become one of their specialties. A-1 Hobbs has built a reputation and a presence in the community by delivering customers a high level of quality and workmanship for over 35 years. The company continues to grow and looks forward to providing the CSRA quality heating & air service and installation for years to come.
A-1 Hobbs Mission Statement
A-1 Hobbs is committed to providing quality and reliability in the service and installation of residential and light commercial markets. We are locally owned and operated for over 35 years with many satisfied customers. Our highly motivated technicians and installers are specially trained and equipped with the latest tools. Providing fast and courteous service minimizes equipment down time, allowing customers to focus on what's important. Management with over 75 years experience totaled, can ensure customers a higher standard of quality and workmanship. Knowing the company has the experience to complete the job gives our customers piece of mind. Our strong work ethics and proven reputation makes A-1 Hobbs the only choice for all of your heating and air needs. Give us a chance to earn your business and you will not regret it.
A-1 Hobbs Heating & Air's Pledge
Provide 100% customer satisfaction
Be open and honest
Work together as a team
Change for the better of ourselves, customers, and industry
Always think of new ways to promote growth and better serve our clientele